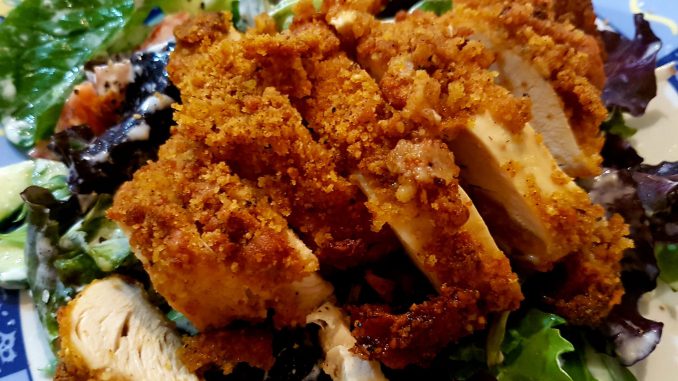 How about a really healthy baked chicken with salad. More healthy you not going to get. Inspired by the flavors of Spain, this easy recipe will leave you wanting for more. Enjoy!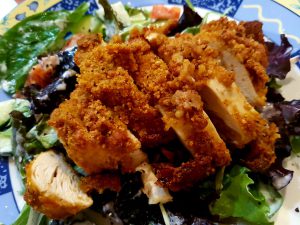 Marthinus's moerbymekaar Parmesan chicken and salad.
2018-09-17 14:40:53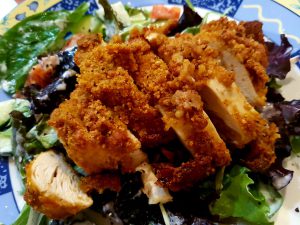 Serves 2
CHICKEN
2 chicken breasts
Cup of Breadcrumbs
Cup of Grated Parmesan cheese or any other hard cheese
Tablespoon Paprika
Tablespoon chopped Garlic
Teaspoon Salt
Teaspoon Pepper
1 egg, beaten
Olive oil
SALAD
Assortment of salad leaves
Handful small Tomatoes or 1 tomato chopped
I small Cucumber chopped
Cup Sour cream
1/4 cup Buttermilk (or normal milk)
Tablespoon chopped Garlic
Tablespoon Lemon juice
Salt to taste
Pepper to taste
Handful Chopped coriander leaves
1/3 cup Grated Parmesan cheese or other hard cheese
Instructions
Make the coating for the chicken first.
Beat the egg in a bowl.
Put the breadcrumbs in another bowl. Add all the ingredients and mix well.
Cover the chicken breasts in the egg.
Then place in the breadcrumb mixture and coat properly
Place the chicken on a baking tray and drizzle with olive oil.
Heat the oven to 220 degrees Celsius.
Bake the chicken for 25 minutes until nice and brown. Don't overlook or the breadcrumbs will become bitter.
Remove and cover to rest for 15 minutes.
Make the salad.
Put the salad leaves in a bowl.
Add the tomatoes, cucumber and coriander.
In another bowl, mix the sour cream, garlic, buttermilk, lemon juice and cheese. Mix together. Add more milk if required to get the salad dressing to be slightly runny.
Pour over salad and mix everything properly.
Cut the chicken breasts into slices.
Plate up by putting the salad on the plate and then the chicken on top. Drizzle some more dressing over the chicken.
Enjoy!
The Culture Cook https://theculturecook.com/