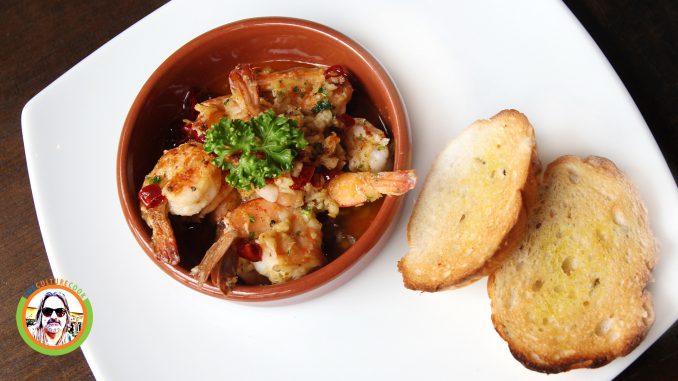 Gambas al Pil Pil in Spain is a great way to easily serve up shrimp. Each spicy garlic shrimp is loaded with Spanish flavor and the entire dish is done in under 20 minutes. These shrimp are usually served as a tapa (appetizer), but you can certainly serve them up next to a roasted pepper and goat cheese salad and some grilled sweet potatoes for a complete meal. Best enjoyed with a crunchy baguette to mop up all the spicy garlicky sauce.
Heidi and I first had this at a restaurant in Marbella in Spain. The funny name attracted our attention and we decided to try it. There is nothing funny about the flavor of this amazing dish. Once you have eaten shrimp or prawns the Pil Pil way, you will never want to eat it any other way again. That is a promise. No wonder that Gambas al Pil Pil is one of Spain's most iconic dishes, second only to Paella. This is full of flavor, spicy, and sooooo delicious. You have to try it!
What does al Pil Pil mean?
Gambas means shrips and pil pil is a sauce made of extra virgin olive oil, garlic, smoked paprika and Spanish peppers. Once all the ingredients are sizzling in the pan you add the shrimp, which cook in the pil pil sauce.
Salud!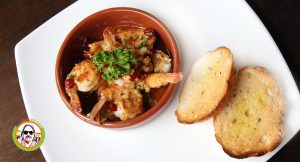 Gambas al Pil Pil
2018-11-22 05:10:24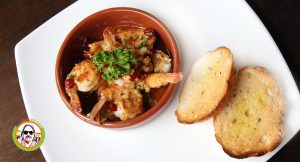 Serves 2
Ingredients
1/4 cup extra virgin olive oil
3 cloves of garlic (thinly sliced)
1 guindilla (spanish red pepper) or chili
1/2 tsp smoked paprika
15 jumbo raw shrimp or prawns
sea salt
black pepper
fresh parsley
Instructions
Thinly slice 3 cloves of garlic.
Cut off the stem of 1 Spanish pepper (or chili), cut it in half and deseed it with a spoon, then cut it into thin slices.
Properly season 15 raw jumbo shrimp or prawns (peeled and deveined) with sea salt and freshly cracked black pepper.
Heat a small non-stick frying pan with a medium-high heat and add a 1/4 cup of extra virgin olive oil.
Once the oil get´s hot add the sliced garlic and sliced peppers, mix with the oil and after about 1 minute add 1/2 teaspoon of smoked paprika and mix everything together.
Add the shrimp in a single layer.
After cooking the shrimp for 1 1/2 minutes flip them and cook for another 1 1/2 minutes.
Transfer everything in the pan to a shallow bowl and sprinkle with some freshly chopped parsley.
The Culture Cook https://theculturecook.com/