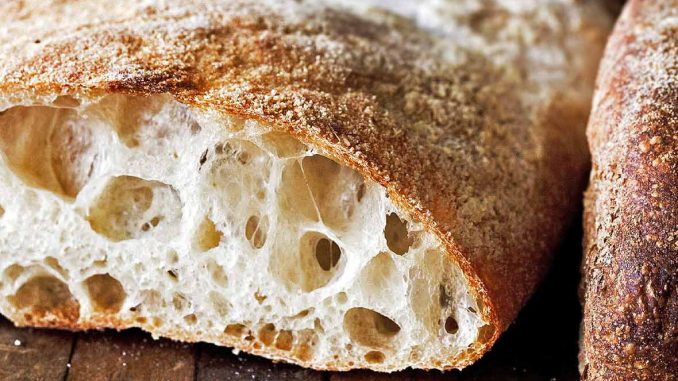 I love bread. Everyone knows that! But, trying to find the perfect Ciabatta recipe has been a mission. I have tried everything. From sour-dough type recipes, to Biga's and everything in between, the perfect, rustic Ciabatta has evaded me. Until now.
I was very suspicious of this recipe. It's a no-knead recipe and the ingredients are thrown together – almost non-chalantly. Every other recipe has you measuring out ingredients by the fraction of grams. It has to be perfect, they say. Bullshit! 200 years ago the peasants in Italy that made these breads daily never had electronic scales that can measure milligrams! They used what they had and made rustic, authentic Ciabatta that these modern wannabee bakers can only dream of achieving.
So here is a simple, no-knead Ciabatta recipe that will make you drool. I promise. Eat with some olive oil and balsamic vinegar with a good deep red wine and you will die and go to heaven. There can be nothing better. I modified this recipe and now it is perfect! No more dough covered hands! You don't even touch the dough. Enjoy.
Marthinus' No-knead Ciabatta Recipe
2018-07-28 14:19:01
Ingredients
3 1/2 cups white bread flour
1/2 cup whole wheat bread flour (I use nutty wheat flour)
1 1/2 teaspoons salt
1/4 teaspoon active dry yeast
2 cups water
1 tablespoon olive oil
Instructions
Place white and wheat flour in a large bowl.
Add salt, yeast, and water.
Mix until a wet sticky dough comes together, about 5 minutes. You can mix it with a wooden spoon.
Scrape down sides of bowl. Cover with a wet kitchen towel.
Allow dough to rise for 18 hours at room temperature. It should not be too warm.
Punch dough down with a wooden spoon and fold it over a few times.
Lightly grease a heavy-rimmed baking sheet with olive oil.
Sprinkle generously with cornmeal.
Scrape the dough onto the baking sheet.
Sprinkle flour on top of the dough.
Gently stretch and pull dough into a long, flat rectangular shape, 12 to 15 inches long. The dough is very wet, so don't stress if it just turns into a flat pool of dough! It's ok.
Reshape the dough, if necessary. Just take the edges with a wooden spoon and pull the ends over the top to make a basic log shape.
Cover with a light dry towel. Let rise about 2 hours.
Preheat oven to 220 degrees C.
Bake dough in preheated oven until loaf is nicely browned, 35 to 45 minutes.
Spray water into the oven the moment you put the bread in. Then again 10 minutes later.
Shut down and open the oven and let it cool in the oven for 30 min.
Don't cover the bread or you will lose the crispy crust!
You can cut into slices and freeze. Will last for weeks in the freezer. Just take as many out as you need and put in the over or toaster for a few minutes and it's as good as fresh!
The Culture Cook https://theculturecook.com/