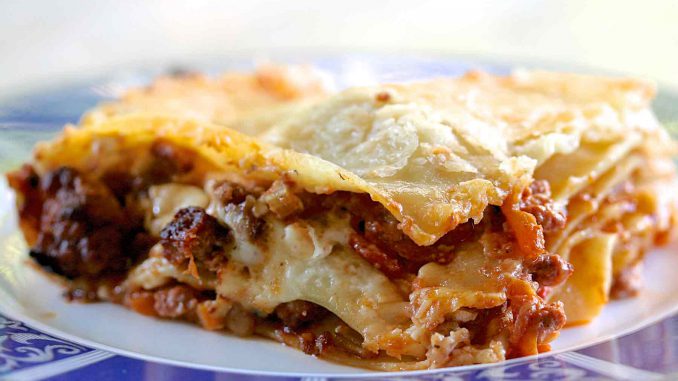 Traditional lasagna is easy to make. Don't look at these other complicated recipes with millions of ingredients. Traditional lasagna is simple and easy. And it tastes better than any other recipe I have ever tried. It's a shame that so many bad versions of this popular Emilian dish are found in fast food restaurants and ready-made in supermarkets. When made properly, lasagne is a delicious comfort food and is always a popular choice. It can be made in advance and baked when required. It is made with the famous ragu Bolognese and egg pasta sheets typical of this region.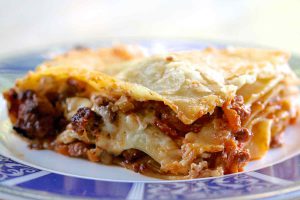 Lasagne Emiliane
2018-11-24 07:56:26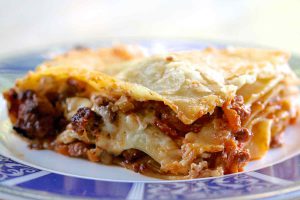 Serves 4
Bolognese ragu
45 ml extra virgin olive oil
25g butter
1 x onion, finely chopped
1 x celery stalk, finely chopped
1 x carrot, finely chopped
150g pancetta, cubed
200g minced beef
200g minced pork
200 ml red wine
2 x tablespoons double-concentrated tomato puree
200 ml stock
For the white sauce
40g butter
40g plain flour
500ml milk
Salt & black pepper
100g grated parmesan cheese
About 8 x dried egg lasagne sheets
Bolognese ragu
Heat the extra virgin olive oil and butter in a pan, add the onion, celery, carrot and pancetta and sweat on a gentle heat for about 10 minutes until the onion has softened.
Add the meat and brown all over.
Increase the heat, add the wine and allow to evaporate.
Dilute the tomato puree in a little of the stock and stir into the meat.
Reduce the heat to low, cover with a lid and cook on a gentle heat for 2 hours, checking and adding a little extra stock from time to time to avoid the sauce from drying out.
For the white sauce
Preheat the oven to 200 degrees centigrade.
Make the white sauce – melt the butter in a small pan on a medium heat, remove from the heat, stir in the flour with a small hand whisk (this will avoid lumps from forming) until you get a paste, stir in a little milk. Return to the heat, add the remaining milk and stirring all the time, cook on a medium heat for about 3 to 4 minutes until the sauce begins to thicken. Remove from the heat, season with salt & pepper and stir in about a third of the grated parmesan.
Line an ovenproof dish with a little of the Bolognese sauce, arrange sheets of lasagne over followed by more sauce, then a layer of white sauce, sprinkle some grated parmesan and continue making layers like this until you have used up all the ingredients ending with a topping of white sauce and grated parmesan cheese.
Bake in the hot oven for about 30 - 35 minutes until golden-brown. Remove, leave to rest for a couple of minutes and serve.
Adapted from Gennaro Contaldo
Adapted from Gennaro Contaldo
The Culture Cook https://theculturecook.com/