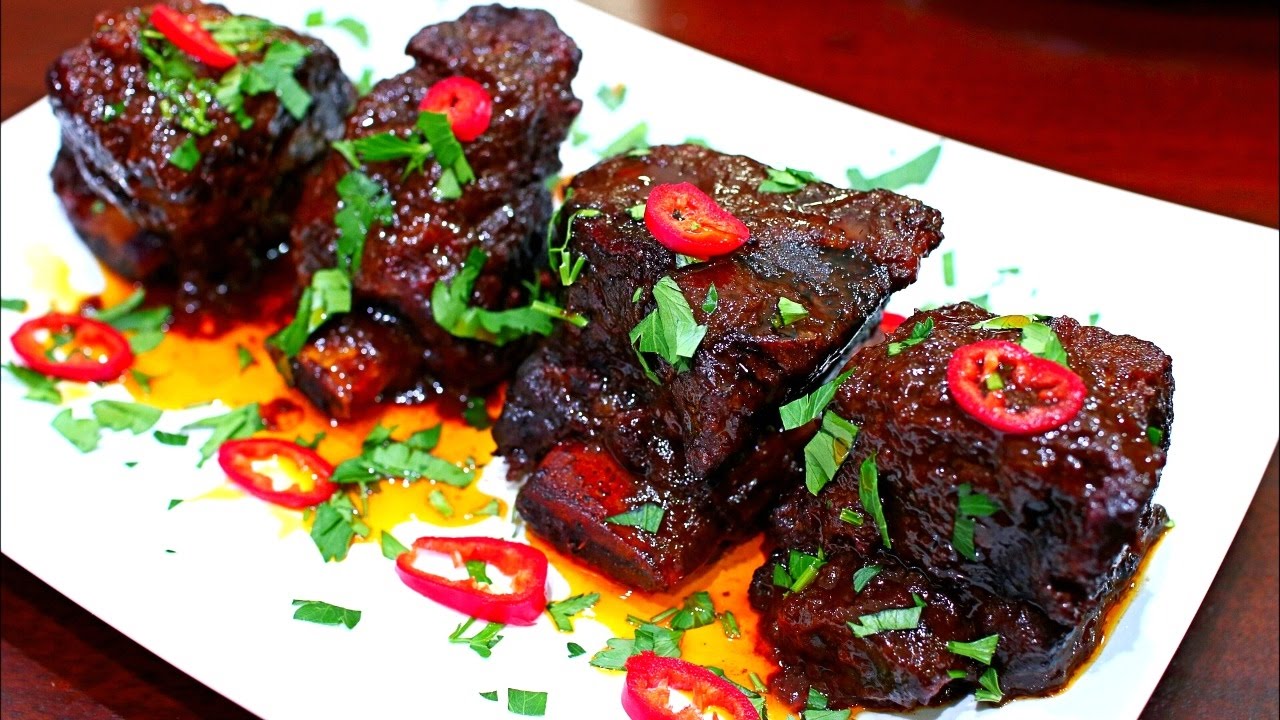 Flanken is a traditional Eastern European Jewish short rib dish, and serves as the origin of flanken cut of short ribs. Flanken-cut short ribs are boiled in broth with onions and other seasonings until the meat is very tender and the broth is rich. The stew is traditionally served with grated horseradish.
Beef short ribs are foolproof, and as long as two things happen. First, the beef must be really well browned – I'm talking deep, dark, crusty, and caramelized. Then just braise them until they're fork-tender. Simple.

Braised Beef Short Ribs With Sherry
2018-02-12 05:15:58

Serves 4
Ingredients
5 slices bacon, cut into small pieces
1 - 1.5kg beef short ribs
salt and ground black pepper to taste
6 sprigs fresh thyme, leaves stripped
1 bay leaf
1 onion, diced
3 cloves garlic, minced
2 tablespoons all-purpose flour
1 cup dry sherry
beef broth
Instructions
Preheat oven to 180 degrees C.
Place bacon in a large skillet and cook over medium-high heat, turning occasionally, until evenly browned, about 10 minutes. Transfer crisped bacon with a slotted spoon to a Dutch oven. Retain bacon drippings in the skillet.
Generously season short ribs with salt and pepper.
Heat bacon drippings in the same skillet over high heat. Cook short ribs in hot bacon fat until browned and caramelized on all sides, 3 to 5 minutes per side. Transfer ribs to the Dutch oven, reserving drippings in the skillet. Add thyme and bay leaf to the ribs mixture.
Reduce heat under the same skillet to medium. Cook and stir onion in the skillet until soft and golden, 5 to 10 minutes. Add garlic; cook and stir until fragrant, about 30 seconds.
Whisk flour into onion mixture and stir until the mixture becomes paste-like and light golden brown, 1 to 3 minutes.
Pour sherry into onion mixture; cook until thick and hot, about 2 minutes. Pour onion-sherry mixture into Dutch oven; add beef broth and salt to taste. Bring ribs mixture to a simmer and cover the Dutch oven with a lid.
Transfer Dutch oven to the preheated oven and cook until short ribs are fork tender, about 2 hours. Remove ribs to a serving dish, reserving sauce in the pot.
Set Dutch oven high heat and boil sauce until reduced and slightly thickened, about 10 minutes. Spoon reduced sauce over ribs.
The Culture Cook https://theculturecook.com/