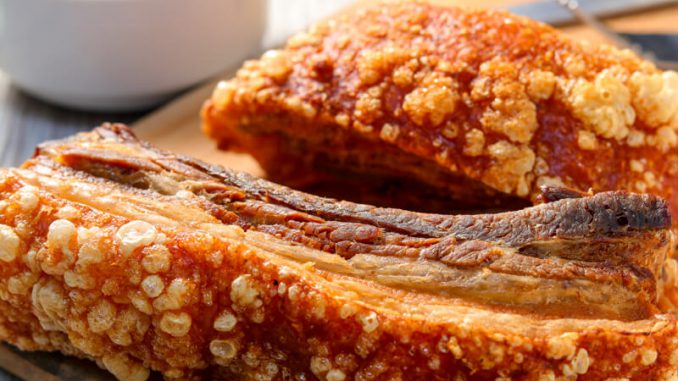 I have searched high and low for the perfect pork belly recipe. I have tried every conceivable recipe that guarantees crispy crackling every time. Unfortunately I have been disappointed many times. In order to save you all a lot of time and even more money, I have done all the hard work for you! What you will find here is a recipe that I have created, combining a few techniques into a fool proof crispy crackling recipe.
This is the most delicious pork belly recipe with a guaranteed crispy crackling that you will die for.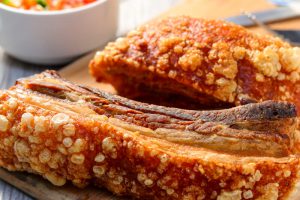 Slow-Roasted Pork Belly with Crispy Crackling
2018-06-27 02:50:57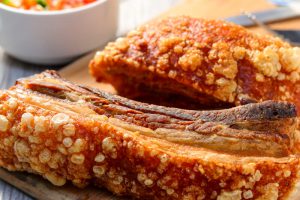 Serves 6
Ingredients
1 kg pork belly
3 medium onions, or peeled and cored green apples
3 teaspoons salt flakes
5 tablespoons oil
For the special roast pork belly sauce
1/2 cup brown sugar
1/2 cup red wine vinegar
3 star anise
1/2 cinnamon stick
the pan juices
juice from 1 orange
3 slices of orange peel
1 cup chicken stock
salt and peppper to taste
Instructions
Take two long sheets of alfoil and put in baking dish.
Cut peeled onions or peeled apples in half and place on foil. Cut them lengthwise so that the pork is resting on a flat discs of onions or apples, and so that your guests get half of an onion or apple each.
Remove all moisture from pork rind by dabbing with high-grade paper towel. This will ensure the pork rind crackles perfectly. Mix salt flakes and oil and rub all over pork belly, including the rind. Work into the crevices all over the pork. Place pork, rind side up, on top of apples or onions.
Gather up alfoil so that is surrounds the pork but leaves the top skin rind exposed. The alfoil should make a close nest around the pork to prevent it from drying out and gather the juices while it's cooking, but at the same time allow the pork rind to crackle.
Place in oven preheated to 150 degrees C and cook for 3 hours. Turn oven temp down to 140 degrees C and cook for another hour. Remove from oven and pour out juices and set aside for the sauce. Do not baste the pork at any time while cooking.
Finally, before serving, place the pork back into oven and cook at 220 degrees C for another 20 mins. This will bring the crackling up to perfection.
To make the special roast pork belly sauce; in a saucepan mix 1/2 cup brown sugar, 1/2 cup red wine vinegar, 3 star anise, 1/2 cinnamon stick, pan juices. Bring to boil and simmer until syrupy - approx 5 mins. Add juice from 1 orange, 3 slices of orange peel and 1 cup chicken stock. Bring back to boil, simmer until reduces. Season with salt and pepper to taste. Remove orange rind, star anise and cinnamon stick before serving.
You can also use the pan juices to make a traditional savoury gravy by mixing the juices with hot water in a saucepan and use cornflower to thicken.
The Culture Cook https://theculturecook.com/