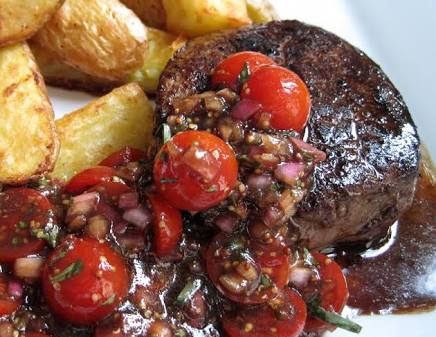 Tired of the same old, same old fillet steak recipe? Want t try something new? Something gourmet? Try this Bois Boudrin sauce for you next fillet. It's spectacular with oodles of flavor. Perfect with oven baked sweet potato chips. You'll make this again and again.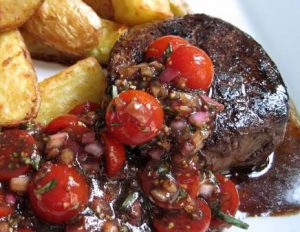 Bois Boudrin Fillet Steak
2018-06-04 12:54:55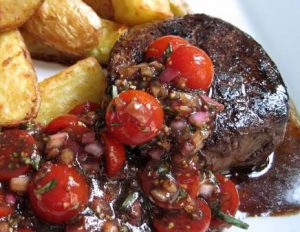 Serves 4
Bois Boudrin Sauce
1 large shallot, chopped
150g small cherry tomato, halved, or 3 medium tomatoes, deseeded and chopped
3 tbsp tomato ketchup
2 tbsp Worcestershire sauce
1 tbsp grain mustard
½ lemon, juice only
1 tbsp balsamic vinegar
1 tbsp olive oil
small handful tarragon leaves, finely chopped
Fillet Steak
Tenderloin of fillet, cut into medallions.
Salt
Pepper
Olive oil
Bois Boudrin
Simply mix everything together. This can be done the day before, then kept covered in the fridge until required. Remove the sauce from the fridge at least 30 mins before serving.
Fillet
Heat a large non-stick skillet over high heat
Add a glug of olive oil
Season the steaks properly with salt and pepper
Fry the steaks for a few minutes each side until properly charred (the taste is in the char)
Remove the steaks and rest for 20 minutes
Spoon the sauce over the steaks and serve
The Culture Cook https://theculturecook.com/