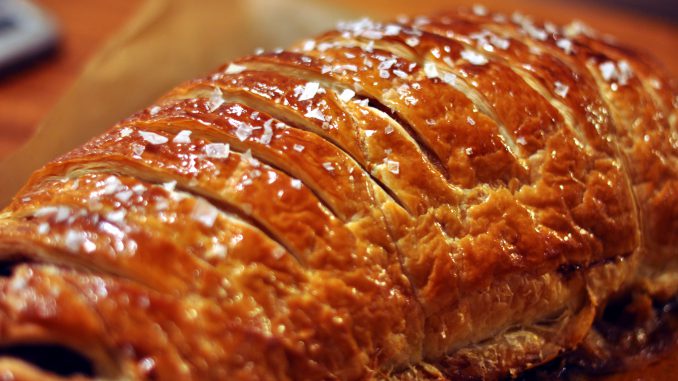 Leah Hyslop, writing in The Daily Telegraph, observes that by the time Wellington became famous, meat baked in pastry was a well-established part of English cuisine, and that the dish's similarity to the French filet de bœuf en croûte (fillet of beef in pastry) might imply that "Beef Wellington" was a "timely patriotic rebranding of a trendy continental dish".
However, she cautions, there are no 19th-century recipes for the dish. There is a mention of "fillet of beef, a la Wellington" in the Los Angeles Times of 1903, and an 1899 reference in a menu from the Hamburg-America line. It may be related to 'steig' or steak Wellington, an Irish dish (the Duke was Irish in origin), but the dates for this are unclear.
An installment of a serialized story entitled "Custom Built" by Sidney Herschel Small in 1930 had two of its characters in a restaurant in Los Angeles that had "beef Wellington" on its menu.
The first occurrence of the dish recorded in the Oxford English Dictionary is a quotation from a 1939 New York food guide with "Tenderloin of Beef Wellington" which is cooked, left to cool and rolled in a pie crust.
Whatever the origin, the Beef Wellington is a fabulously extravagant dish, tasting of opulence and a real culinary treat. It's hard work – but so very worth it!
Beef Wellington is done in layers. The inside of the wellington is beef fillet. Then you have a thin layer of mustard on the beef. Then the duxelles, then the prosciutto, then the pastry. The prosciutto give the salty taste and the pastry holds everything together. Make sure the prosciutto is overlapping and completely covers the duxelles, otherwise the duxelles will leak out and make the pastry soggy. The prosciutto basically keeps all the juices and moisture inside and away from the pastry. Make sure you rest the wellington for at least 20 – 30 minutes to ensure that the juices in the beef has dried up.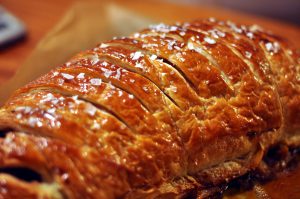 Beef Wellington
2018-11-11 09:36:11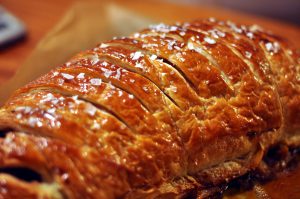 Serves 6
For the Duxelles
680 grams white button mushrooms
2 shallots or red onions, peeled and roughly chopped
4 cloves garlic, peeled and roughly chopped
2 sprigs fresh thyme, leaves only
2 tablespoons unsalted butter
2 tablespoons extra-virgin olive oil
Kosher salt and freshly ground black pepper
For the Beef
One 1kg - 1.5kg center cut beef tenderloin (filet mignon), fat trimmed
Extra-virgin olive oil
Kosher salt and freshly ground black pepper
12 thin slices prosciutto. (You can also use any other cured ham)
6 sprigs of fresh thyme, leaves only
2 tablespoons Dijon mustard
Flour, for rolling out puff pastry
450 grams puff pastry, thawed if using frozen
2 large eggs, lightly beaten
1/2 teaspoon coarse sea salt
Minced chives, for garnish
Green Peppercorn Sauce, recipe follows
Green Peppercorn Sauce
2 tablespoons olive oil
2 shallots or red onions (you can use any onion), sliced
2 cloves garlic, peeled and smashed
3 sprigs fresh thyme, leaves only
1 cup cognac (or brandy)
1 box beef stock
2 cups cream
2 tablespoons grainy mustard
1/2 cup green peppercorns in brine, drained
To make the Duxelles
Add mushrooms, shallots, garlic, and thyme to a food processor and pulse until finely chopped.
Add butter and olive oil to a large saute pan and set over medium heat.
Add the shallot and mushroom mixture and saute for 8 to 10 minutes until the liquid has evaporated. Season with salt and pepper and set aside to cool.
You want the duxelles to be dry or the pastry will become soggy.
Saute until all the moisture is out. Taste for seasoning.
To prepare the beef
Drizzle with olive oil, then season with salt and pepper and sear all over, including the ends, in a hot, heavy-based skillet lightly coated with olive oil - about 2 to 3 minutes.
Meanwhile set out your prosciutto on a sheet of plastic wrap on top of your cutting board or kitchen top.
Shingle the prosciutto so it forms a rectangle that is big enough to encompass the entire filet of beef. Using a rubber spatula cover evenly with a thin layer of duxelles.
Season the surface of the duxelles with salt and pepper and sprinkle with fresh thyme leaves.
When the beef is seared, remove from heat, and smear lightly all over with Dijon mustard. Allow to cool slightly, then roll up in the duxelles covered prosciutto using the plastic wrap to tie it up nice and tight.
Tuck in the ends of the prosciutto as you roll to completely encompass the beef. Roll it up tightly in plastic wrap and twist the ends to seal it completely and hold it in a nice log shape. Set in the refrigerator for 30 minutes to ensure it maintains its shape.
Preheat oven to 220 Celsius
On a lightly floured surface, roll the puff pastry out to a thin layer.
Depending on the size of your sheets you may have to overlap 2 sheets and press them together.
Remove beef from refrigerator and cut off plastic. Set the beef in the center of the pastry and fold over the longer sides, brushing with egg wash to seal.
Trim ends if necessary then brush with egg wash and fold over to completely seal the beef - saving ends to use as a decoration on top if desired.
Roll up tightly in plastic wrap and leave in the fridge for 30 minutes.
Unwrap the beef.
Top with coarse sea salt. Place the beef seam side down on a baking sheet.
Brush the top of the pastry with egg wash then make a couple of slits in the top of the pastry using the tip of a paring knife. This creates vents that will allow the steam to escape when cooking.
Bake for 40 to 45 minutes until pastry is golden brown and beef registers 52 degrees C on an instant-read thermometer. Remove from oven and rest for at least 20 minutes before cutting into thick slices.
Garnish with minced chives, and serve with Green Peppercorn Sauce.
Green Peppercorn Sauce
Add olive oil to pan after removing beef.
Add shallots, garlic, and thyme; saute for 1 to 2 minutes, then, off heat, add cognac and flambe using a long kitchen match.
After flame dies down, return to the heat, add stock and reduce by about half.
Strain out solids, then add 2 cups cream and mustard. Reduce by half again, then shut off heat and add green peppercorns.
The Culture Cook https://theculturecook.com/