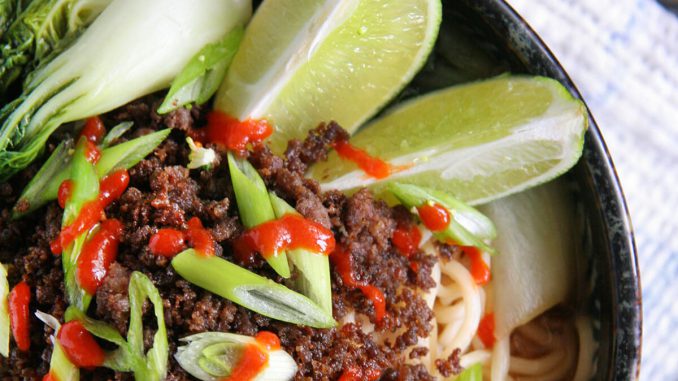 There are only so many things you can do with beef mince. I never thought I can get these Asian flavors from mince. This is a beautiful mid week meal for the whole family. It's fast and super easy.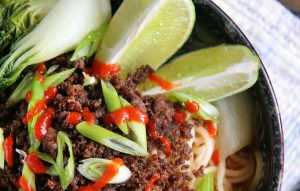 Asian crispy beef
2018-05-23 07:29:47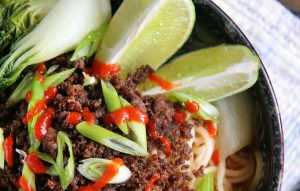 Serves 2
Ingredients
1 tablespoon unsalted peanuts
2 cloves of garlic
5cm piece of ginger
sesame oil
2 star anise
200 g lean minced beef
2 teaspoons runny honey
1 teaspoon fish sauce
1 teaspoon low-salt soy sauce
1 lime
150 g rice noodles or spaghetti
2 spring onions
1 fresh red chilli (or chilli flakes)
fresh mixed salad veg , such as round lettuce, carrot, radishes, cress, spinach for two people
few sprigs of fresh coriander
Instructions
Lightly toast the peanuts in a dry frying pan, then crush in a pestle and mortar and put aside.
Peel and finely chop the garlic and ginger.
Put 1 tablespoon of sesame oil and the star anise into the frying pan on a medium-high heat.
Add the mince, breaking it apart with a wooden spoon, followed by half the garlic and ginger and all the honey. Stir-fry for 5 minutes or more to crisp up and get golden brown. Must be nice and crisp!
Meanwhile, crush the remaining garlic and ginger into a paste in the pestle and mortar, then add in the fish and soy sauces and lime juice to make a dressing.
Cook the noodles according to the packet instructions.
Trim the spring onions, then finely slice with the chilli (deseed if you like).
Prep the salad veg, breaking the lettuce leaves apart and matchsticking or finely slicing any crunchy veg.
Load up your plates with that lovely salad veg, then drain and add the noodles. Spoon over the dressing, sprinkle over the crispy beef, chilli, spring onions and crushed peanuts, pick over the coriander leaves and tuck in.
Adapted from Jamie Oliver
Adapted from Jamie Oliver
The Culture Cook https://theculturecook.com/