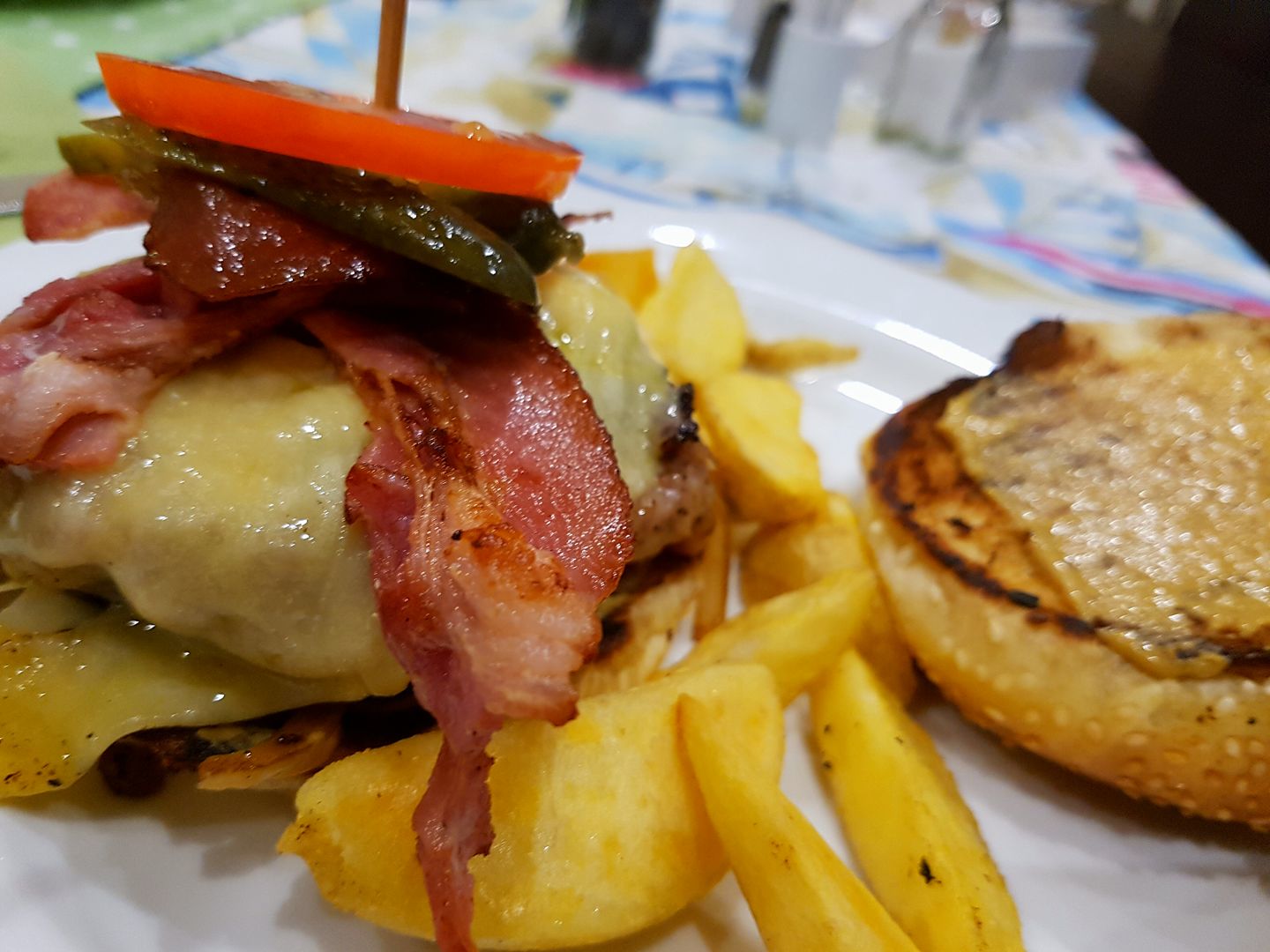 Created by Marthinus Strydom on February 28, 2017
This is the most delicious, juicy, tasty, flavorful burger ever. If there was a hamburger wold championship then this burger will win hands down! My [...]
Prep Time: 20m
Cook Time: 20m
Total Time: 40m
Ingredients
4

strips bacon

2

strips German speck

4

thin slices aged cheddar cheese

Hot English mustard

4

pinches

paprika

4

pinches

ground corriander

1

egg, lightly beaten

1

onion, cut in half. Chop one half finely. Slice the other half into slices.

1

Handful breadcrumbs

1

cube beef stock (or 1 teaspoon beef stock powder)

8

Sliced gherkins

4

Sliced tomatoes

dash

Olive oil

1

teaspoon

Salt

1

teaspoon

Pepper
Instructions
To make the patties
In a bowl combine the beef with the paprika, corriander, few grinds of salts, few grinds of pepper, egg, beef stock, breadcrumbs and chopped onion.
Mix with your hands.
Form into 4 patties.
Heat a pan with 2 counts olive oil.
Fry the bacon and speck until crisp.
Place on a kitchen towel on a plate.
Fry the onion a few minutes until nice and browned.
Remove the onions to the bacon plate.
Fry the patties on high heat until properly browned on both sides. 3 minutes a side.
Place the slices of cheese on top of the patties and remove to a plate.
Slice the buns in half.
Place the buns, cut sides down onto the pan (the same one you fried the patties)
Toast until browned.
Make the burger
Generously apply the mustard on the buns.
Place the onions on the bottom bun.
Then the patty on top of the onions.
Then the bacon.
Then the gherkins.
Then the tomato.