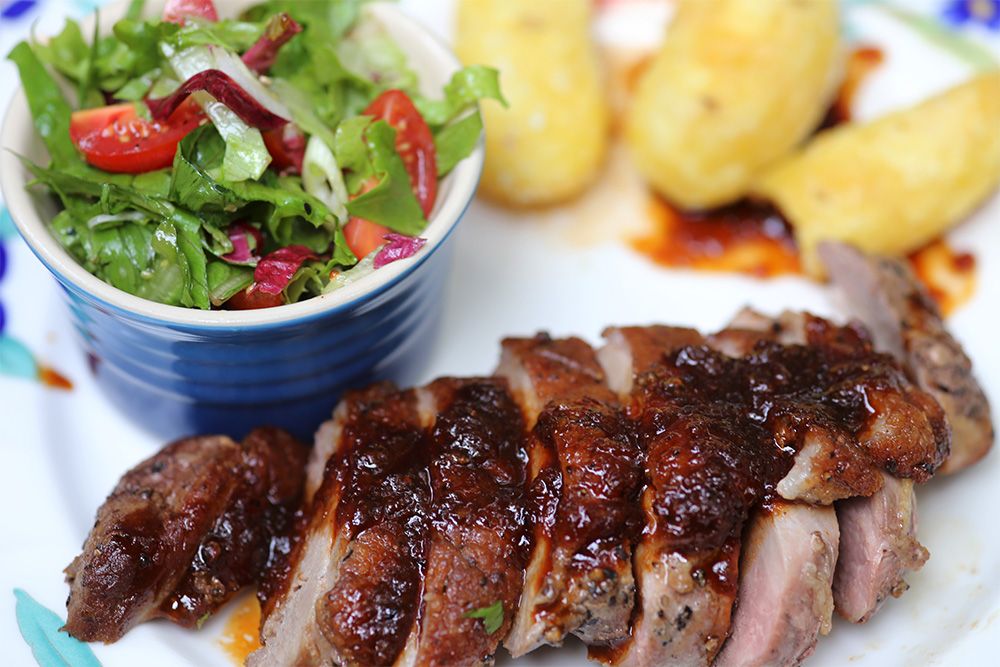 This is the only way to eat duck in my opinion. It's such a perfectly light meal and the flavors are fantastic. Serve with Duck Fat Roasted Fingerling Potatoes and a green salad. Austrians love eating duck and they have a gazillion ways of preparing duck (Ente in German).
The most popular meats in Austria are beef, pork, chicken, turkey and goose. The prominent Wiener Schnitzel is traditionally made of veal. Pork in particular is used extensively, with many dishes using offal and parts such as the snout and trotters.
Austrian butchers use a number of special cuts of meat, including Tafelspitz (beef), and Fledermaus (pork). Fledermaus (German for "bat") is a cut of pork from the ham bone which resembles the winged animal. It is described as "very juicy, somewhat fatty, and crossed by tendons"; the latter fact makes it suitable for steaming, braising or frying after tenderization in a marinade.
Austrian cuisine has many different sausages, like Frankfurter, Krainer Wurst from Carniola (Krain), Debreziner (originating from Debrecen in Hungary), or Burenwurst, Blunzn made out of pig-blood and Grüne Würstl – green sausages. Green means raw in this context – the sausages are air dried and are consumed boiled. Bacon in Austria is called Speck, bacon can be smoked, raw, salted, spiced etc. Bacon is used in many traditional recipes as a salty spice. Leberkäse is a loaf of corned beef, pork and bacon, it does not contain either liver or cheese despite the name. Vanillerostbraten is a beef dish prepared with lots of garlic.
Keep your eye on The Culture Cook as we travel through Austria.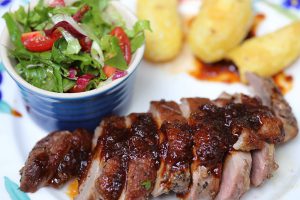 Pan Fried Duck Breasts with Honey, Soy and Ginger
2016-09-26 09:48:27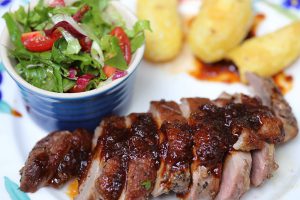 Serves 2
Ingredients
2 Duck breast fillets
1 Pinch Salt
1 Pinch Cayenne pepper
1 Pinch Freshly ground black pepper
125 Milliliters Chicken stock
2 Tablespoons Honey
2 Tablespoons Soy sauce (low sodium)
2 Tablespoons Rice wine (or you can use Dry white Sherry)
1 Tablespoon Grated fresh root ginger
1 Teaspoon Tomato puree
1 Pinch Chilli powder
1 Teaspoon Lime juice
Instructions
Preheat oven to 200C.
Use a sharp knife to score across the duck breasts through the skin and fat but just barely to the meat. Rub the skin with salt, cayenne and black pepper.
Preheat an ovenproof frying pan over medium-high heat. Lay the breasts in the pan skin-side down and fry until the skin is brown and crisp, about 5 minutes. Discard any excess fat from the bottom of the pan. Turn the breasts over and cook for 1 minute.
Place the pan into the preheated oven and roast until the internal temperature of the thickest part of the breasts reach 66C for medium, or until the breasts reach desired doneness.
Remove the duck breasts from the frying pan and cover with aluminium foil. Set aside to rest. Pour off excess fat from the frying pan.
Place the stock, soy sauce, rice wine, ginger, tomato puree, chilli powder and lime juice in the frying pan. Whisk the sauce over high heat, bring to the boil and cook until the sauce thickens, about 2 minutes.
Slice the duck breasts thinly, arrange on serving plates, and pour the sauce over the top.
The Culture Cook https://theculturecook.com/