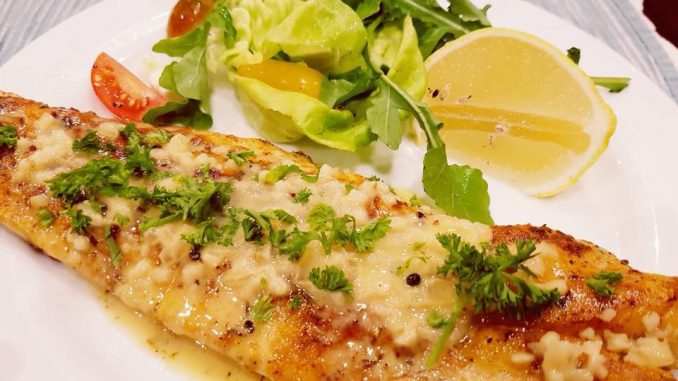 Here is something really special to spruce up that old tried and tested fish recipes. There are only so many ways to prepare fish and this elevates white fish to a completely new level of gourmet. The taste is incredible and served with a fresh green salad makes it the perfect dinner. This is one fish recipe that you will make over and over again. Enjoy!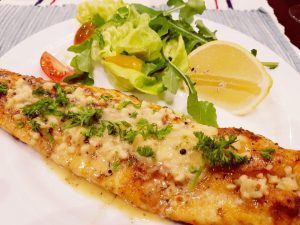 The world's best pan fried fish with rich lemon butter sauce
2018-05-08 01:11:47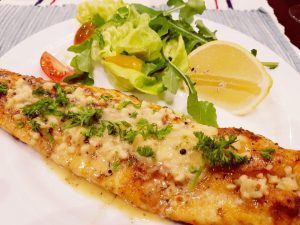 Serves 4
LEMON BUTTER SAUCE
1 cup dry white wine
1⁄2 cup lemon juice
2 tablespoons minced garlic
1 tablespoon shallot, minced
1 teaspoon salt
1⁄4 teaspoon black pepper
1 dash Worcestershire sauce (1/4 teaspoon)
1 dash hot pepper sauce (1/4 teaspoon)
1⁄2 cup heavy cream
1 cup butter, room temperature (2 sticks)
FISH SPICE BLEND
1⁄2 tablespoon paprika
1⁄2 tablespoon salt
1⁄2 tablespoon garlic powder
1⁄4 tablespoon black pepper
1⁄4 tablespoon onion powder
1⁄4 tablespoon cayenne pepper (to taste)
1⁄4 tablespoon dried oregano
1⁄4 tablespoon dried thyme
FISH
4 Kabeljou fillets (or cod or any whte fish)
1⁄2 cup flour
2 tablespoons olive oil
fresh parsley, for garnish
LEMON BUTTER SAUCE
Heat a large skillet over high heat. Add the wine, lemon juice, garlic, and shallots. Cook for 3 minutes until shallots are soft and sauce slightly reduced. You want to cook out the acohol.
Stir in the salt, pepper, Worcestershire, and hot sauce and simmer until the mixture is somewhat syrupy, about 3 minutes.
Stir in the cream and cook for 1 minute. Over low heat, whisk in the butter a few spoons at a time. Continue whisking until all of the butter is incorporated into the sauce. Serve immediately or keep warm until ready to use. (You can cover with lid until ready to serve and then reheat slowly while whisking)
FISH
Mix fish spice blend ingredients together. Season the fish with half the spices by rubbing it all over the fish. Season the flour with the other half of the spices and dredge the fish in the seasoned flour, coating completely.
In a large saute pan, heat the olive oil until smoking. Add the fish to the saute pan, pan-frying for about 4 minutes on each side.
TIP
Start frying the fish skin side down. Leave it at least 2 minutes, then slowly lift with spatula to see if it's properly browned and crispy. If it sticks to the pan, it's not ready! Leave it. Turn over when ready and let it brown properly. The flavor is in the browning! Don't be afraid of the fish! When its nice and brown use a fork to pierce and pull slightly to see if it's nice and flaky. Then you are ready.
SERVE
Drizzle some lemon butter sauce on each plate. Top with fish and drizzle more sauce over top of fish (Don't overdo it! The sauce it rich). Top with fresh parsley. Serve with fresh green salad!
The Culture Cook http://theculturecook.com/