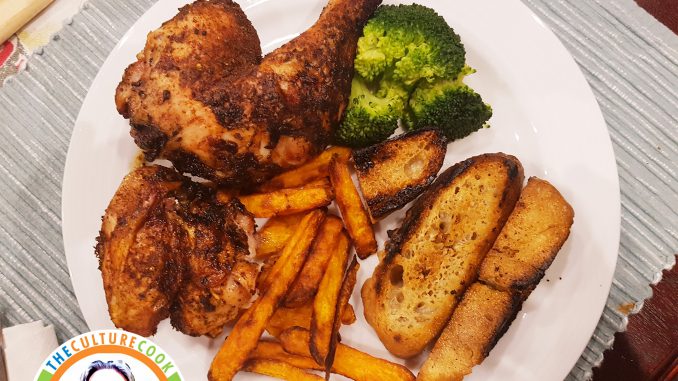 Well now! I found a chicken recipe that has changed the way I prepare chicken forever. Never again will I roast a whole chicken. This will change your life completely. I've made many Spatchcoocked Chickens before, but this one is by far the best. Prepare yourself for the best grilled chicken in the world.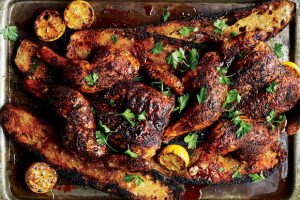 The best grilled chicken in the world
2018-04-25 05:33:28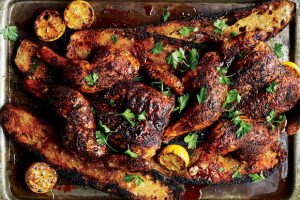 Serves 4
Ingredients
2 tablespoons smoked Spanish paprika
2 tablespoons salt
2 tablespoons coarsely ground black pepper
1 teaspoon cayenne pepper
1 chicken, backbone removed
Few thick slices of rustic country bread. Can also use Ciabatta bread
2 tablespoons extra-virgin olive oil
1 lemon, halved
1/2 cup parsley leaves
Instructions
Prepare grill for medium-high, indirect heat (for a charcoal grill, bank coals on one side of grill; for a gas grill, leave one or two burners off). Combine paprika, salt, black pepper, and cayenne in a small bowl.
Place chicken on a work surface, skin side up. Cut backbone out. Using your palms, press firmly on breastbone to flatten breast. Season chicken all over with paprika mixture, patting to adhere.
Grill chicken, skin side up, over direct heat, rotating occasionally and moving to cooler side of grill as needed to control flare-ups, until browned, 5–8 minutes. Turn skin side down and grill, rotating occasionally, until browned, 8–10 minutes. Turn chickens skin side up and move to indirect heat. Grill, rotating occasionally, until an instant-read thermometer inserted into the thickest part of thighs registers 170°, 50–60 minutes. Transfer to cutting board and let rest 5 minutes.
Meanwhile, drizzle bread on both sides with olive oil and grill over direct heat until toasted and lightly charred, about 4 minutes; transfer to a platter.
Grill lemon, cut side down, over direct heat until lightly charred and juices start to caramelize, about 4 minutes.
Place chicken on top of bread and scatter parsley over. Squeeze 2 or 3 lemon halves over; serve with remaining lemons.
Do Ahead
Chicken can be grilled 2 hours ahead; hold at room temperature. Grill over high to reheat, about 4 minutes, before finishing as directed above.
The Culture Cook http://theculturecook.com/