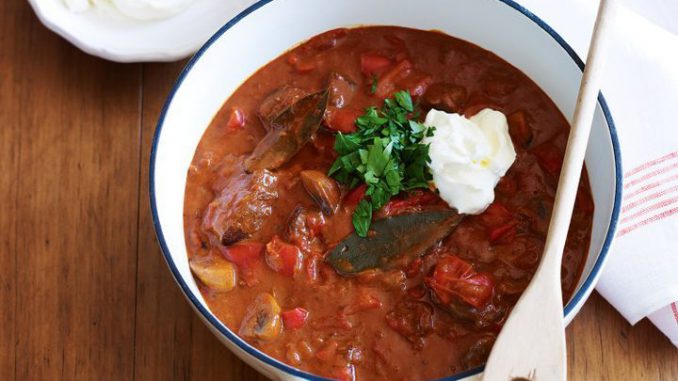 Beautiful comfort food recipe for the cold winter. Serve with pasta of your choice and rustic bread to scrape up that delicious sauce. This will become your go-to meal for the whole family on cold winter nights. Enjoy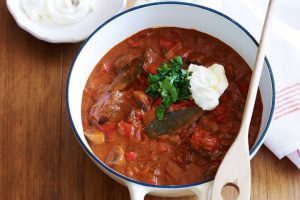 Rich beef goulash stew
2018-04-11 04:46:51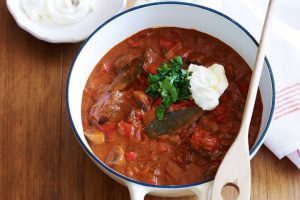 Serves 4
Ingredients
2 tablespoons olive oil
750g Topside or Goulash beef, trimmed, cut into 3cm cubes
Salt and pepper to taste
1 large brown onion, finely chopped
2 garlic cloves, crushed
200g button mushrooms, quartered
2 large red peppers, cut into 2cm pieces
2 tablespoons tomato paste
1 tablespoon Worcestershire sauce
2 tablespoons plain flour
2 tablespoons sweet paprika
2 dried bay leaves
2 cups beef stock
400g can diced tomatoes
2 tablespoons sour cream
Cooked pasta
Chopped fresh flat leaf parsley, to serve
Sour cream, to serve
Instructions
Heat half the oil in a large, heavy-based, flameproof casserole dish over medium-high heat.
Generously salt and pepper the beef.
Cook beef, in batches, for 5 to 6 minutes or until properly browned. Remember that the browning is where the flavor comes from. Transfer to a bowl.
Heat remaining oil in dish. Add onion, garlic, mushrooms and red pepper. Cook, stirring, for 5 minutes or until onion has softened.
Add tomato paste and Worcestershire sauce. Cook for 3 minutes.
Return beef to dish. Add flour and paprika. Cook, stirring, for 1 minute. Add bay leaves.
Stir in stock and tomato. Cover dish. Bring to the boil. Reduce heat to a slow simmer. Cook for 2 hours or until beef is tender.
Add 2 tablespoons sour cream. Stir until smooth and combined.
Serve with pasta, parsley and sour cream.
The Culture Cook http://theculturecook.com/